Courtesy of Macy's
True
"Would you like to build a snowman?" If you asked five-year-old Brantley from Texas this question, the answer would be a resounding "Yes!" While it may sound like a simple dream, since Texas doesn't usually see much snow, it seemed like a lofty one for him, even more so because Brantley has a congenital heart disease.
On Dec. 11, 2019, however, the real Macy's Santa and his two elves teamed up with Make-A-Wish to surprise Brantley and his family on his way to Colorado where there was plenty of snow for him to build his very own snowman, fulfilling his wish as part of the Macy's Believe campaign. After a joy-filled plane ride where every passenger got gift bags from Macy's, the family arrived in Breckenridge, Colorado where Santa and his elves helped Brantley build a snowman.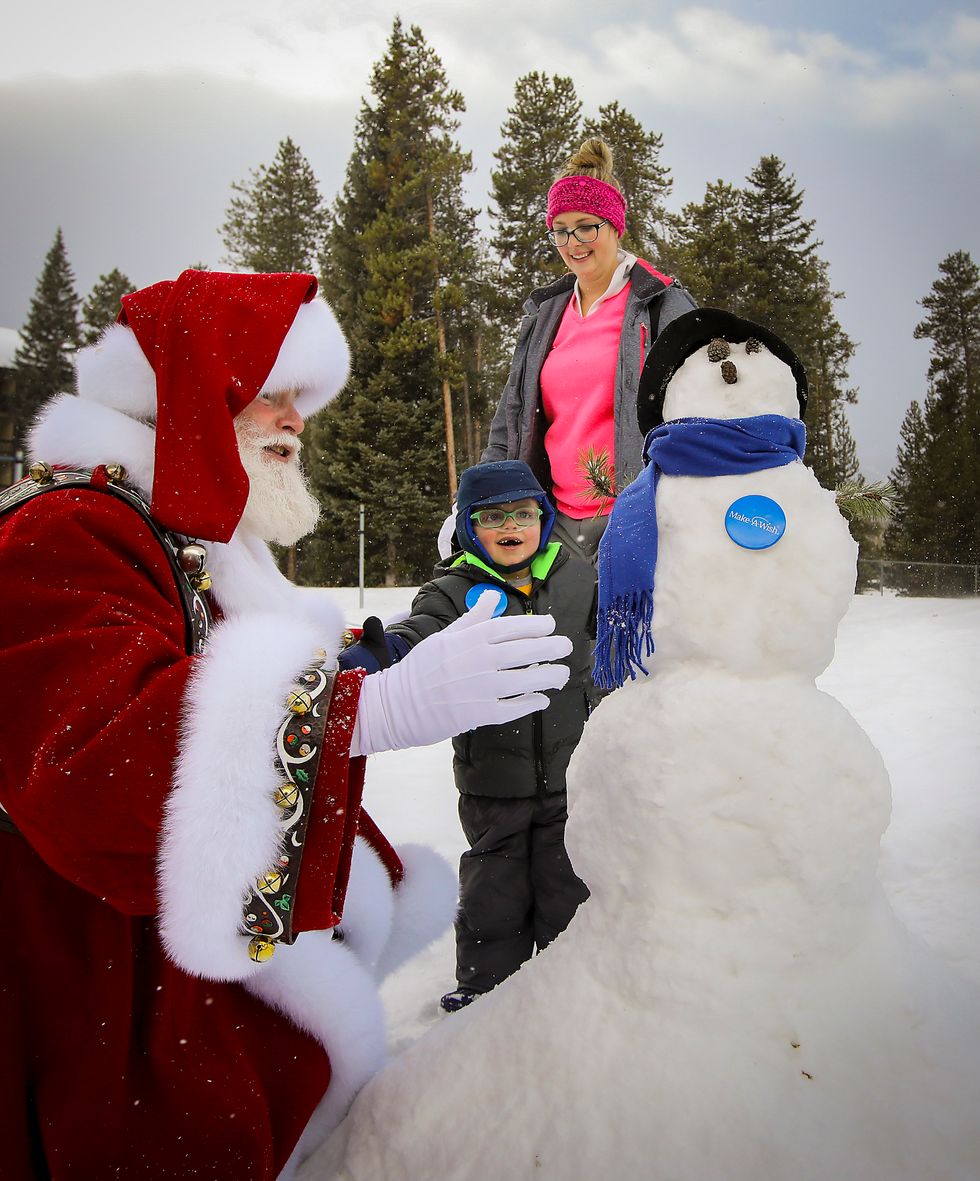 Brantley, Brantley's mom, and Santa marveling at their snowmanAll photos courtesy of Macy's
Brantley, who according to his mom had never actually seen snow, was blown away by the experience.

"Well, I had to build a snowman because snowmen are my favorite," Brantley said in an interview with Summit Daily. "All of it was my favorite part."
This is just one example of the more than 330,000 wishes the nonprofit Make-A-Wish have fulfilled to bring joy to children fighting critical illnesses since its founding 40 years ago. Even though many of the children that Make-A-Wish grants wishes for manage or overcome their illnesses, they often face months, if not years of doctor's visits, hospital stays and uncomfortable treatments. The nonprofit helps these children and their families replace fear with confidence, sadness with joy and anxiety with hope.
It's hardly an outlandish notion — research shows that a wish come true can help increase these children's resiliency and improve their quality of life. Brantley is a prime example.
"This couldn't have come at a better time because we see all the hardships that we went through last year," Brantley's mom Brandi told Summit Daily.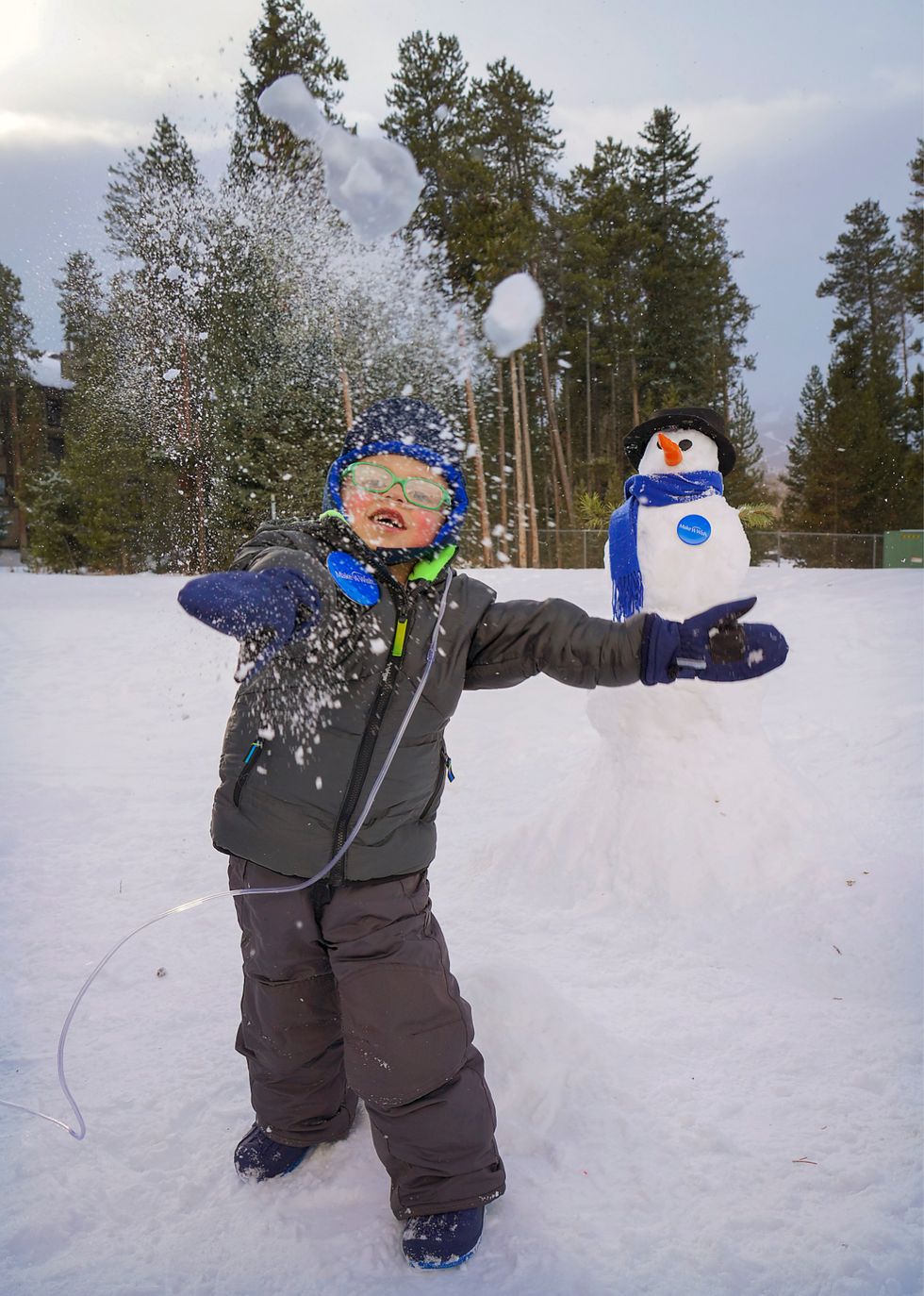 Brantley playing with snowballs
Now more than ever, kids with critical illnesses need hope. Since they're particularly vulnerable to disease, they and their families have had to isolate even more during the pandemic and avoid the people they love most and many of the activities that recharge them. That's why Make-A-Wish is doing everything it can to fulfill wishes in spite of the unprecedented obstacles.

That's where you come in. Macy's has raised over $132 million for Make-A-Wish, and helped grant more than 15,500 wishes since their partnership began in 2003, but they couldn't have done that without the support of everyday people. The crux of that support comes from Macy's Believe Campaign — the longstanding holiday fundraising effort where for every letter to Santa that's written online at Macys.com or dropped off safely at the red Believe mailbox at their stores, Macy's will donate $1 to Make-A-Wish, up to $1 million. New this year, National Believe Day will be expanded to National Believe Week and will provide customers the opportunity to double their donations ($2 per letter, up to an additional $1 million) for a full week from Sunday, Nov. 29 through Saturday, Dec. 5.
There are more ways to support Make-A-Wish besides letter-writing too. If you purchase a $4 Believe bracelet, $2 of each bracelet will be donated to Make-A-Wish through Dec. 31. And for families who are all about the holiday PJs, on Giving Tuesday (Dec. 1), 20 percent of the purchase price of select family pajamas will benefit Make-A-Wish.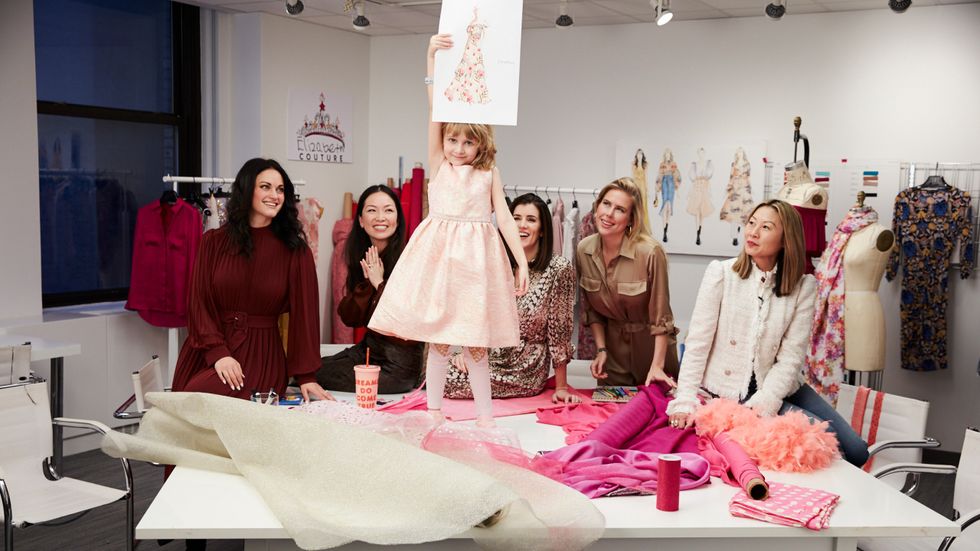 Elizabeth living out her wish of being a fashion designer
Additionally, this year's campaign features 6-year-old Elizabeth, a Make-A-Wish child diagnosed with leukemia, whose wish to design a dress recently came true. Thanks to the style experts at Macy's Fashion Office and I.N.C. International Concepts, only at Macy's, Elizabeth had the opportunity to design a colorful floral maxi dress. Elizabeth's exclusive design is now available online at Macys.com and in select Macy's stores. In the spirit of giving back this holiday season, 20 percent of the purchase price of Elizabeth's dress (through Dec. 31) will benefit Make-A-Wish.You can also donate directly to Make-A-Wish via Macy's website.

This holiday season may be a tough one this year, but you can bring joy to children fighting critical illnesses by delivering hope for their wishes to come true.
From Your Site Articles
Related Articles Around the Web
True
This year, we've all experienced a little more stress and anxiety. This is especially true for youth facing homelessness, like Megan and Lionel. Enter Covenant House, an international organization that helps transform and save the lives of more than a million homeless, runaway, and trafficked young people.

Watch the full story:
Amazon is Delivering Smiles this holiday season by donating essential items and fulfilling AmazonSmile Charity Lists for organizations, like Covenant House, that have been impacted this year more than ever. Visit AmazonSmile Charity Lists to donate directly to a charity of your choice or simply shop smile.amazon.com and Amazon will donate a portion of the purchase price of eligible products to your selected charity.

From Your Site Articles
Related Articles Around the Web
via Brittany Kinley / Facebook
Brittany Kinley, a mother from Mansfield, Texas, had a hilarious mom fail her and she's chalking it up to being just another crazy thing that happened in 2020.

When Kinley filled out the order form for her son Mason's kindergarten class pictures, there was an option to have his name engraved into the photos. But Kinley wasn't interested in having her son's name on the photos so she wrote "I DON'T WANT THIS" on the box.
Well, it appears as though she should have left the box blank because the computer or incredibly literal human that designed the photographs wrote "I DON'T WANT THIS" where mason's name should be.
<p>Kinley shared the photo on Facebook where it's gone viral receiving over 16,000 likes and 38,000 shares.</p><div class="rm-shortcode" data-rm-shortcode-id="f56dfa7d2bf53b5d6d0c74fe107c3b3a"><div class="fb-post" data-href="https://www.facebook.com/photo.php?fbid=10124125803263754&amp;set=a.10101049561961304&amp;type=3"></div></div><p><br></p><p class="shortcode-media shortcode-media-rebelmouse-image"> <img type="lazy-image" data-runner-src="https://assets.rebelmouse.io/eyJhbGciOiJIUzI1NiIsInR5cCI6IkpXVCJ9.eyJpbWFnZSI6Imh0dHBzOi8vYXNzZXRzLnJibC5tcy8yNDgyODA2MS9vcmlnaW4uanBnIiwiZXhwaXJlc19hdCI6MTYxMjE3ODI4MX0.5hUbdvVBsC0y01oI5jplHMIHOwL1oVz2Ncj6wxGZ5Hg/img.jpg?width=980" id="b3fd6" class="rm-shortcode" data-rm-shortcode-id="5e9b3d1ceb60239e5e4c8869a56a4fed" data-rm-shortcode-name="rebelmouse-image"> <small class="image-media media-photo-credit" placeholder="Add Photo Credit...">via Brittany Kinley / Facebook</small></p><p>"I'm sure everyone needs a good laugh these days so thanks to my latest mom fail...you're welcome in advance haha," Kinley captioned the photo. "Mason got his kindergarten pictures and I didn't want his name on the bottom so I typed in "I don't want this" and they freaking printed this…"<br></p><p>Having "I DON'T WANT THIS" printed on a photo that represents 2020 resonated with a lot of people on Facebook. Probably because it's what we've been saying to ourselves day after day of being stuck in the house or going outside and seeing normally busy places turned into ghost towns.</p><p>"Love! This is something I would definitely do!! and... it's the motto for 2020," a commenter named Chrysa wrote.</p><p>"This is a 2020 MOOD! Trying to smile but deep inside we are all I DON'T WANT THIS," Omar added.</p><div class="rm-embed embed-media"><iframe allowfullscreen="" class="giphy-embed" frameborder="0" height="198" src="https://giphy.com/embed/hRwtOlZ1SBdpHV6QRZ" width="480"></iframe><p><a href="https://giphy.com/gifs/justin-meme-2020-hRwtOlZ1SBdpHV6QRZ"></a></p></div><p>But Kinley is just happy she's given people the chance to laugh in such a trying year.<br></p><p>"I think 2020 has been such a hard year for everyone and people need some positivity and a good laugh," Kinley said <a href="https://www.today.com/parents/see-why-one-mom-s-school-photo-fail-going-viral-t200189" target="_blank">according to Today.</a></p><p>"I've gotten so many messages from people saying they haven't laughed this hard all year and that it made their day," she added. "I never thought it would have that effect but I'm so glad we can spread laughter in a crazy time like this."</p><p>Mason now feels famous after all the attention his photo is getting. "He'll occasionally ask how many more people is he making laugh," Kinley said, adding "his teachers gave him a round of applause and yelled, 'I do want this!' during drop off!'"</p><p>Kinley has tried to get a hold of the company that printed the pictures but she hasn't had any luck as of yet.</p><p>"It's not their fault. It was my mom fail," Kinley said, "so no bad feelings there!"</p><p>Even if she does get new photos printed that don't say, "I DON'T WANT THIS" she has to keep a few of the original shots because they're sure to be a perfect reminder of the year nobody wanted.</p>
Get stories worth sharing delivered to your inbox
Get stories worth sharing delivered to your inbox