True
*Welcometoterranova may earn a portion of sales revenue from purchases made through links on our site.
With the election quickly approaching, the importance of voting and sending in your ballot on time is essential. But there is another way you can vote everyday - by being intentional with each dollar you spend. Support companies and products that uphold your values and help create a more sustainable world. An easy move is swapping out everyday items that are often thrown away after one use or improperly disposed of.

Package Free Shop has created products to help fight climate change one cotton swab at a time! Founded by Lauren Singer, otherwise known as, "the girl with the jar" (she initially went viral for fitting 8 years of all of the waste she's created in one mason jar). Package Free is an ecosystem of brands on a mission to make the world less trashy.
Here are eight of our favorite everyday swaps:
1. Friendsheep Dryer Balls - Replace traditional dryer sheets with these dryer balls that are made without chemicals and conserve energy. Not only do these also reduce dry time by 20% but they're so cute and come in an assortment of patterns!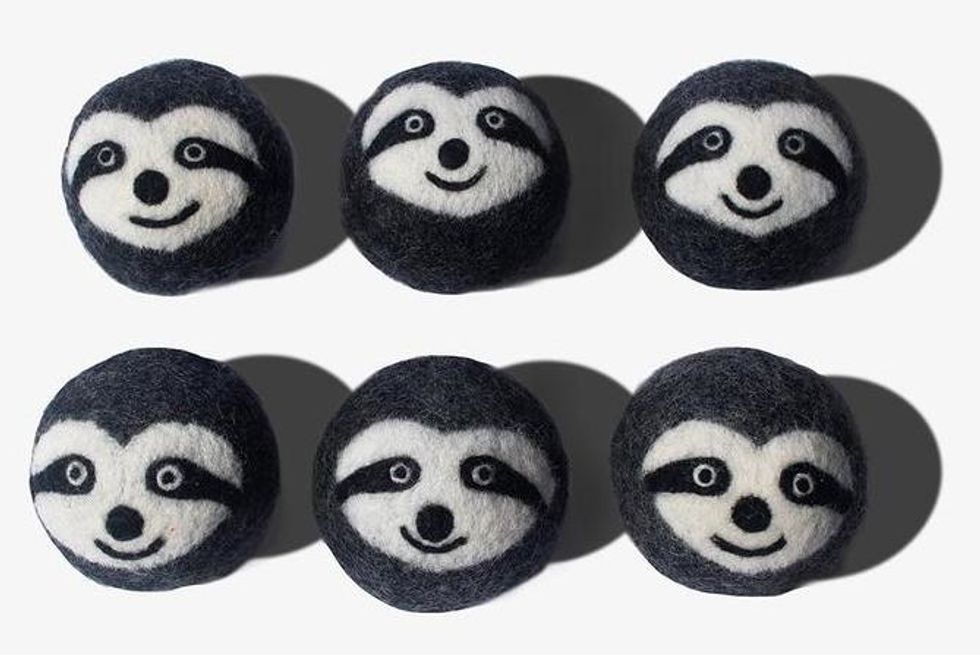 Package Free Shop
2. Last Swab - Replacement for single use plastic cotton swabs. Nearly 25.5 billion single use swabs are produced and discarded every year in the U.S., but not this one. It lasts up to 1,000 uses as it's able to be cleaned with soap and water. It also comes in a biodegradable, corn based case so you can use it on the go!
<p>3. <a href="https://imp.i141824.net/PL24Q" target="_blank">Reusable Storage Bags</a> - Whether you are snacking, sandwich-ing, or storing food for later, never use a single use plastic bag again! Dishwasher, microwave, boiling water, freezer (recommended to be placed upright), and oven safe, up to 400F.<br/></p><p>4. <a href="https://imp.i141824.net/kn7Zd" target="_blank">Cotton Rounds</a> - Ditch single use cotton balls and switch to reusable cotton rounds. These come in a set of 20 which typically lasts 2 weeks before you need to wash them.</p><p>5. <a href="https://imp.i141824.net/PozeQ" target="_blank">Toilet Paper</a> - Who can forget all the empty shelves in stores at the beginning of the pandemic, never panic again about where to get a roll of toilet paper and help save the 27,000 trees that get flushed down the toilet daily. Instead, this 3 ply toilet paper is made from unbleached bamboo pulp. It's soft and padded for comfort.</p>
<img type="lazy-image" data-runner-src="https://assets.rebelmouse.io/eyJhbGciOiJIUzI1NiIsInR5cCI6IkpXVCJ9.eyJpbWFnZSI6Imh0dHBzOi8vYXNzZXRzLnJibC5tcy8yNDUzMTk4NS9vcmlnaW4uanBnIiwiZXhwaXJlc19hdCI6MTY1NjQ5ODE4Nn0.whfy9ZgOTbvDFKr7LrJWQJjOwLT-mai1ViSRKFLATlg/img.jpg?width=2000&coordinates=0%2C255%2C0%2C255&height=1500" id="d91f8" class="rm-shortcode" data-rm-shortcode-id="a0c669c9fe8d66508c9a07bc8bd02795" data-rm-shortcode-name="rebelmouse-image" usemap="#image-map-a0c669c9fe8d66508c9a07bc8bd02795" /><map name="image-map-a0c669c9fe8d66508c9a07bc8bd02795"><area coords="63.1891435036,47.79931959,6.0" title="Reusable Silicone Storage Bag Bundle" alt="Reusable Silicone Storage Bag Bundle" shape="circle" href="https://imp.i141824.net/PL24Q" target="" data-post-id="2648392451" data-price="38.00" data-image-src="https://assets.rebelmouse.io/eyJhbGciOiJIUzI1NiIsInR5cCI6IkpXVCJ9.eyJpbWFnZSI6Imh0dHBzOi8vYXNzZXRzLnJibC5tcy8yNDUzMjI1Ny9vcmlnaW4uanBnIiwiZXhwaXJlc19hdCI6MTY1MzY4ODcwM30.4PYoHnFahscdYg1y82O9o-gzM5f0mi4z0MwwgtFRLo4/img.jpg?width=210"/></map>
<p>6. <a href="https://imp.i141824.net/5RkWN" target="_blank">Leaf Shave Razors</a> - Replacement for single use plastic razors, 100% recyclable in metal recycling. This razor also has a lifetime guarantee.</p><p>7. <a href="https://imp.i141824.net/VnOJE" target="_blank">Bamboo toothbrush</a> - Replaces plastic toothbrushes that often end up in the ocean, completely made from plants.</p><p><span></span>8. <a href="https://imp.i141824.net/NdnEN" target="_blank">Laundry Detergent</a> - Created by The Simply Co. who strives to make the most sustainable cleaning products ever. Simple three ingredient laundry detergent made without plastic packaging or harmful chemicals that are often unregulated and enter our waterways through washing. </p><p>Help make the world a little less trashy by visiting <a href="http://imp.i141824.net/QBYa3" target="_blank">https://packagefreeshop.com/</a>.</p>